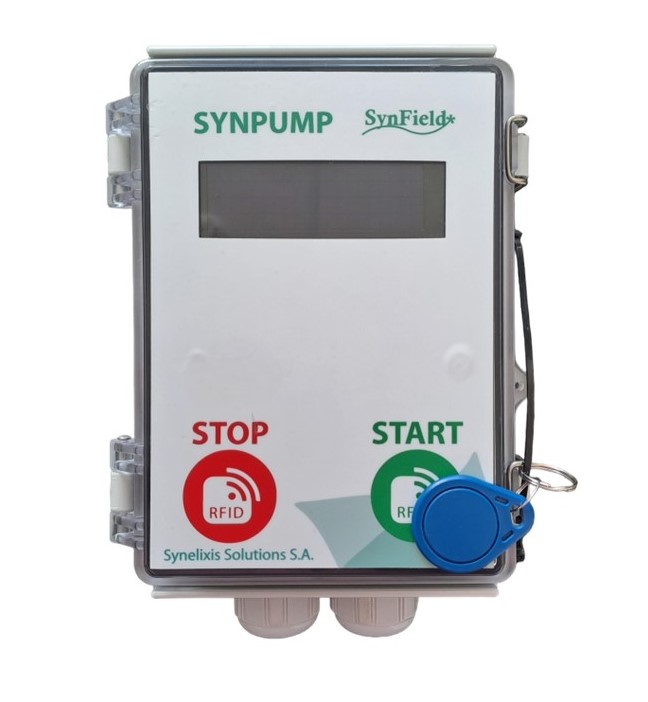 SynPump is Synelixis' innovative solution, coming as an extension to SynField, for the management and automated control of the water from a shared drilling site. It is an integrated system that allows for irrigation planning and timing among the beneficiaries of the water site.
SynPump:
Allows you to monitor the water consumption in the shared water site per user and set the exact time and duration of irrigation per user/beneficiary
Records with accuracy the water consumption per user/ beneficiary, supporting a variety of sensors (e.g. flow meter, water pressure etc.)
Allows you to control your water site remotely (from your mobile phone or computer) or locally (through an appropriate RFID micro device)
Has an internal rechargeable battery for uninterrupted operation even in the event of power failure
Is covered by a waterproof outdoor device
Carries ESD and lightning protection
Carries anti-theft protection by GPS positioning
Remote water site control
Wherever you are, manage your water drilling site through your mobile phone or computer. With SynPump, you can see in real time the status of the water site, the amount of water consumed and who of the beneficiaries uses it.
SynPump is designed to relieve you of the cost of management! It allows you to easily define through a calendar when the beneficiaries or your collaborators have the right to use the shared drilling water.
Allow any collaborator or beneficiary of your choice to use the share water drilling site
The use of the drilling site is secured by sophisticated protection systems and personal RFID magnetic cards, while, it is also remotely controlled via your mobile phone or computer. SynPump allows use of the drilling water only from the people you have specified.
From any device you want - mobile phone, tablet, or, computer - you can have full knowledge of the status your water site. Monitor total water consumption, water consumption per beneficiary, use time, available water usage balance per user, and other important measurements.
Do you want us to show you more?