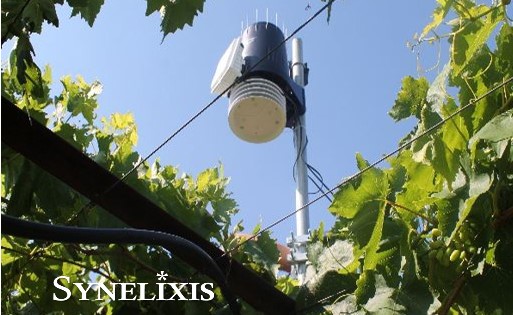 Synelixis and OmniSens installed the SynField Smart Irrigation system in a table grapes vineyard of 16 hectars in Kiato, Greece.
The instaled SynField system features two Head nodes and one Peripheral node, weather station/microclima sensors (including rain meter, wind meter, wind direction, ambient temperature, relative humidity), leaf wetness, 6 soil moisture and electrical conductivity sensors and 3 waterflow sensors.
With this setting, the SynField application can collect data not only regarding the weather conditions, but also the leaf wetness, water flow rate in the drip lines along the farm and the soil moisture in several disperse locations in the farm (each connected soil moisture cable length is about 30 meters in order to collect measurements from different locations with different soil electric conductivity values).
The measures have been performed from specialized personnel from the Agricultural University of Athens, while the vineyard is a property of the Pegasus Agrifood Coop (7 Grapes)
Pegasus Agrifood Coop is a table grapes growers co-operative. It is the largest co-operative of table grapes in Greece. It is established in Kiato which is found in Northern Peloponnese region of Greece. Its members harvest a total area of 150 ha of table grapes of different cultivars such as Thompson seedless and Crimson seedless while they also trade additional table grapes quantities which are grown in other regions of Greece. More information is available at http://www.7grapes.gr/